05 Apr 2021
Interior Design Trends to Upgrade Your Home Decor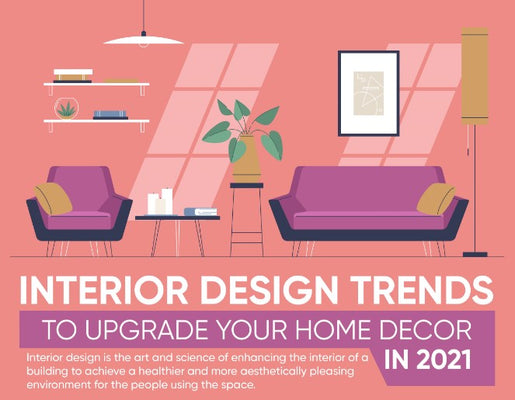 Many people's life changing during 2020, and many wishing they could get away this year, Take a look ahead at the interior design trends for 2021!
Market Growth of Interior Design:
Global Interior Design Services Market to Reach $255. 4 Billion by 2027

Amid the COVID-19 crisis, the global market for Interior Design Services estimated at US$150.7 Billion in the year 2020, is projected to reach a revised size of US$255.4 Billion by 2027, growing at a CAGR of 7.8% over the analysis period 2020-2027.

The U.S. Market is Estimated at $40.7 Billion, While China is Forecast to Grow at 11.9% CAGR

Residential, one of the segments analyzed in the report, is projected to record a 8.1% CAGR and reach US$157.1 Billion
Market Growth of Online Home Decor Market:
Global Online Home Decor Market to Reach $348.3 Billion by 2027

Amid the COVID-19 crisis, the global market for Online Home Decor estimated at US$98.4 Billion in the year 2020, is projected to reach a revised size of US$348.3 Billion by 2027, growing at a CAGR of 19.8% over the analysis period 2020-2027

Online Home Furniture, one of the segments analyzed in the report, is projected to record a 19.2% CAGR and reach US$156.4 Billion
Product Trends in Home Decor:
Furniture was the largest product segment in 2018, accounting for 51.1% share of the overall revenue.
Home Textile products such as bed linen, curtains, kitchen linen, bathroom linen, floor covering, and upholstery are expected to register a revenue-based CAGR of 7.2% from 2021 to 2025.
Indoor application pertaining to indoor living space such as bedroom, living room, bathroom, kitchen, and other covered areas inside a house accounted for the largest share of 92.6% in 2018.

The outdoor application segment is projected to expand at a CAGR of 7.6% from 2019 to 2025 owing to the increasing influence of western culture lifestyle
Regional Growth Insights:
North America was the largest regional market in 2018, accounting for 37.7% share of global revenue.

The Asia Pacific is likely to witness significant growth in the market on account of shifting population to the urban areas.

Developing countries such as Indonesia, China, and India has surged the demand for home décor products.
Key manufacturers:
Kimball International Inc

Inter IKEA Systems B.V

Herman Miller, Inc.

Home24

Hanssem Corporation

Koninklijke Philips N.V.

Conair Corporation

Suofeiya Home Collection Co., Ltd.

Springs Window Fashions LLC; and Siemens AG
Consumer trends in Home decor:
38 percent of designers choose the low-maintenance plant known for its sculptural, hole-filled leave

35 percent favored the regal tropical plant. Many respondents favored getting rid of faux plants

Besides wood, respondents noted that bouclé (51 percent) and vegan leather (56 percent) would be rising in popularity for 2021

According to 60 percent of designers polled,

warm minimalism

is poised to become the breakout decorating style for 2021.

Wallpaper beat out paint out to the tune of 74 percent to 26 percent.
Quick Trends:
Maximalist Approach
Maximalist look channels the free-spirited essence of the celebrated Bloomsbury artists and their creative flair. Mix large-scale wall decor with small-scale decorative details to create playful layers. 
Mixing Textures
Think layering rugs, or placing a modern cement bust on a vintage wooden bookshelf. Mixing textures adds depth and warmth to a space, so the next time you buy a throw pillow for your bed, consider velvet.
Green
Add bursts of rich, romantic color as range of beautiful green shades- deep sage and turquoise
Brown
Brown can bring a very strong '80s look that can bring a lot of warmth into a room depending on how it's used. Earth tones abound in 2021.
Yellow
Everything from rich mustards to beautiful, deep marigolds. Go big and splash up a coat of paint on a statement wall or use it to add pops of color via accessories like pillows, throws, or decorative objects.
Checkers
A checkered pattern adds a touch of whimsy and is a great way to break up the look of an otherwise neutral room. However, this is the kind of pattern that requires restraint and vision
Stainless Steel
Accessories like toasters, blenders, candlestick holders, and trays can add a decorative touch while also being functional.
Peel-and-Stick Wallpaper
Try the cool peel-and-stick wallpaper options as it's ideal for renters and small-space dwellers who are looking to add a bit of pizzazz. Transform a room without breaking the bank
Art Investments
There is a continued focus on art investments and collecting meaningful pieces.what is in the background matters more now than ever
Vintage
Vintage furniture is often sturdier and better constructed than new options. Mixing old and new pieces within the same space is without a doubt one of the biggest interior design trends for 2021.
Multifunctional Rooms
Multifunctional rooms are a necessity, We have to to make these rooms practical while still remaining aesthetically pleasing
Raw Stone
Raw stone and mixing of stones have been showing prominence recently- coffee tables, accessories, and even stone lighting fixtures are cropping up.
Toile
Many designers are now mixing tons of vintage prints, toile, velvets, and woods in a way that is reminiscent of the French countryside.It's definitely a fun way to express a maximalist aesthetic with a decidedly kitschy point of view.
Outdoor Space
Even those living in cooler or wetter climates are investing in sprucing up covered porches with space heaters to make them comfortable year-round.
Rust
Organic, earthy tones that inspire a very visceral experience and complement the bright turquoise and brown hues mentioned earlier.
Related Posts